Parker: Magnetic Particle Testing Products

Related
Product
PB-1 Powder Blower

The PB-1 Hand-held Controlled Magnetic Powder Blower provides reliable and controlled application of magnetic inspection powder to areas previously inaccessible – horizontal, vertical and overhead.
B-100 Contour Probe
Product Description:
• Handheld AC Magnetic Yoke
• Lightweight
• Durable Molded Construction
• Powerful AC Magnetic Field
• Economical
• One-Year Guarantee
• Totally Repairable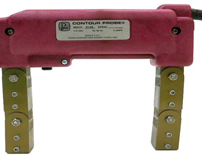 The Instrument that does so much, so well

If you do any work with ferrous metals… in the shipyard, aerospace, steel mill, foundry, weldment or vehicle overhaul… you need the performance advantage of the B-100 Contour Probe.
Wide versatility
mechanically, the B-100 Probe will conform to practically any surface configuration. This instrument produces strong, constant AC fields.
One-Person Package
The B-100 Contour Probe is a complete magnetic package. One person takes it to work and easily performs a thorough and reliable inspection in a fraction of the time consumed by large bulky equipment.
Precise Area Inspection
Powerful magnetic fields are concentrated and applied to the precise area to be inspected. The construction of the new B-100 Contour Probe allows for the replacement of all internal components.
Specifications
B-100

B-100S

Line Voltage Single Phase

115 VAC
50/60 Hz

230 VAC
50/60 Hz

Line Current

6 A

3 A

Weight

6½ lb (2.95 kg)