NDT 715 Thickness Gauge
The NDT 715 Thickness Gauge offers the same specifications as our field proven NDT-710 gauge. It is a small, hand held thickness gauge, only 2.5″W x 4.75″H x 1.25″D and weighing only 10 oz. It is designed to make reliable spot check measurements an has a SCAN MODE that will capture and display the thinnest measurement taken during a strip scan along a length of material. Housed in a extruded, anodized aluminum housing with nickel plated aluminum end caps and a weather resistant keypad the gauge is suitable for your toughest working condition. The NDT 715 is also more resistant to potential interference from RFI fields than plastic housed instruments.

Specifications NDT 715 Thickness Gauge
Principle: Ultrasonic Pulse-echo with dual element transducer
Range: 0.030 (0.75mm) to 19.99 (199.99mm) depending upon transducer used and material
Resolution: 0.001 (0.01mm)
Automatic linearity adjustment
Automatic Zero adjustment with transducer on calibration block
Automatic Shut-Off 2 minutes after last reading or last key press
Built in Probe Zero calibration block
Easy to read back lighted Liquid Crystal Display (LCD) with Coupling Indicator
Instant switching between English or Metric measurement
Up to 75 hours continuous operation using alkaline batteries
Low Battery Indicator
Additional Information
Sound Velocity Range: 0.0492 to 0.3930 in/ms (1250 to 10,000 m/s)
Size: 1.7″ H. x 2.4″ W. x 4.75″ L (32mm x 62mm x 120mm)
Temperature Range: – 20 to 120 F (-20 to 50 C)
Weight: 10 oz. with batteries (284 grams)
Powered by two AA 1.5V alkaline batteries
2 year warranty
Standard Kit Includes the NDT-715 Gauge with alkaline batteries, 1/4″ element diameter x 5.0 MHz Transducer on 4 foot long integral cable, 4 oz. bottle of ultrasonic gel Couplant, Operation Manual and padded nylon Carry Bag with shoulder strap.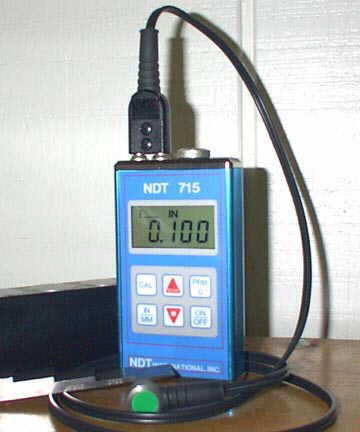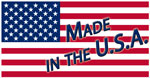 NDT 710 Model – no longer in production
The NDT 710 model is no longer in production, but since they were built to last like all the NDT International products, we still receive requests from existing clients for the user manual. Click to download Manual for NDT 710 model…