NDT 715 Thickness Gauge
We have phased out the NDT-715 units and have replaced them with the ZX-3 Ultrasonic Thickness Gauge.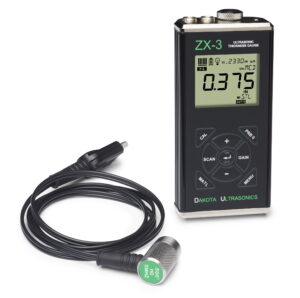 Click here to learn more about the ZX-3 Thickness Gauge
The new ZX-3 thickness gauge offers a performance solution built to withstand the roughest industry conditions. Some new features such as measuring range up to 36", display update to 10Hz, high-speed scans at 100 Hz and Gain range of 40-52dB in 3dB steps among other updates. All backed by Dakota Ultrasonics' 5 Year Manufacture's warranty.
The ZX-3 has the same extruded bullet proof housing and is very durable in hostile environments.  It also has a 5-year warranty included.
Specifications ZX-3 Thickness Gauge
Principle: Ultrasonic Pulse-echo with dual element transducer
Range: 0.025 (0.63mm) to 36.00 inches (914.4mm) depending upon transducer used and material
Resolution: 0.001 (0.01mm)
Automatic linearity adjustment
Automatic Zero adjustment with transducer on calibration block
Automatic Shut-Off 5 minutes after last reading or last key press
Built in Probe Zero calibration block
Easy to read back lighted Liquid Crystal Display (LCD) with Coupling Indicator
Instant switching between English or Metric measurement
Up to 45 hours continuous operation using alkaline batteries
Low Battery Indicator
Additional Information
Sound Velocity Range: 0.0492 to 0.3930 in/ms (1250 to 10,000 m/s)
Size: 1.7″ H. x 2.4″ W. x 4.75″ L (32mm x 62mm x 120mm)
Temperature Range: – 20 to 120 F (-20 to 50 C)
Weight: 10 oz. with batteries (284 grams)
Powered by two AA 1.5V alkaline batteries
5-year warranty
The Standard Kit includes the ZX-3 Gauge with (2) alkaline batteries, .250" element diameter x 5.0 MHz Transducer on 4-foot-long integral cable, 4 oz. bottle of ultrasonic gel Couplant, Operation Manual and plastic carry case.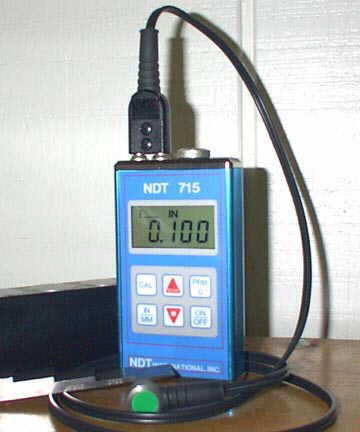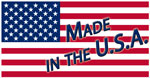 NDT 710 Model – Manual Download
The NDT 710 model is no longer in production, but since they were built to last like all the NDT International products, we still receive requests from existing clients for the user manual. Click to download Manual for NDT 710 model…